Here at LED Controls, we offer an extensive range of electric motor controls, factory automation and safety products from some of the industry's leading brands. We've got all of your needs covered, with everything from variable speed drives to circuit protection and power distribution.
We stock a comprehensive range of products from world leading manufacturers such as Danfoss, ABB, Siemens, Pfannenberg and many more.
Variable Speed Drives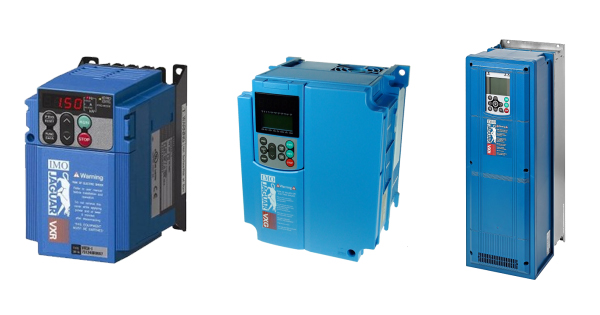 Also known as adjustable speed drives or variable frequency drives, these pieces of equipment are used to save on electricity and energy by regulating the speed and torque output of electric motors. As well as the vast energy savings potential that comes with using VSD's, they also come with a whole host of other benefits.
Variable Speed Drives allow for the tighter control of processes, as they can accurately control numerous features such as temperature, pressure and flow. The systems are easily programmed to alter acceleration and deceleration, to make for a more efficient process, and are fitted with computing intelligence and communications for more accurate control.
Commonly used in sewage, irrigation, sawmill conveyors and hospital ventilation systems, VSD's can accurately maintain the speed of driven machines using integrated power electronics as a more efficient way of saving energy.
We have an extensive range of Variabe Speed Drives available to buy here at LED Controls Ltd, from some of the world's major manufacturers including IMO, Siemens, Toshiba, Danfoss and many more.
Programmable Logic Controller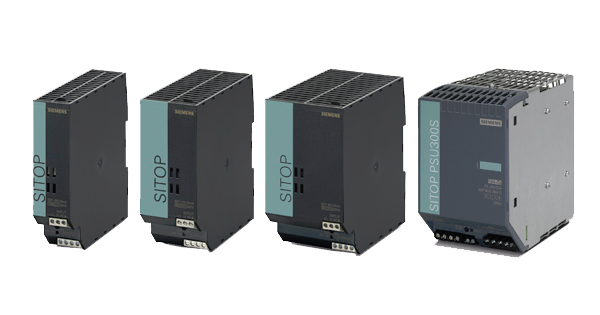 Programmable Logic Controllers are major components used in factory automation and industrial process control. They are advanced industrial computer systems which can be used to control a wide variety of applications, through a range of different functions. Some of the many functions that PLCs perform include signal processing, analog and digital input & output, data conversion and various communication protocols.
They are made up of a Central Processing Unit (CPU), memory, input modules, output modules and a power supply. PLCs need to be programmed to carry out a specific task, in order to meet the requirements of particular applications. The PLC then receives input from machines, sensors and processes, and eventually converts this into a specific set of instructions which it sends directly to the corresponding output systems in order to complete the process.
The systems are built to withstand some of the most hazardous and explosive environments, with a robust design that means they can be fully operational in the industry for years.
Here at LED Controls, we stock the Siemens SIMATIC PLC range, in a huge variety of different sizes. We also sell the XGB range from IMO, their latest introduction to their PLC products. Click here to shop.
Motor Starting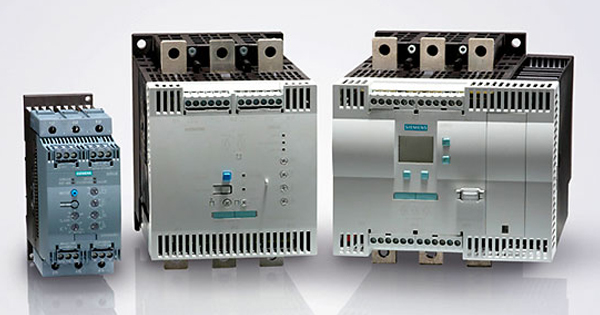 Motor starter units are used to "start" motors, and control the use of electrical power to equipment. There are many different types of electric starters available, with all of them providing different uses and functions. Motor starters can be used to stop, reverse and protect all types of different motors.
The main components of motor starters are Contactors; which control the electric current to the motor, and Overload Protection; which protects the motor from overheating. The main types of starters are motor soft starters, manual motor starters, DOL starters and Star Delta starters.
Motor soft starters are used with AC electrical motors to control the applied voltage. The soft starter reduces the torque applied to the electric motor, which can be adjusted by reducing the voltage when the motor has started.
Manual motor starters are mainly used to switch units ON and OFF, with the ability to protect against short-circuits and overloading. They're a cost effective away to protect the main circuit, as the motor will be switched off within milliseconds of detecting a malfunctioning condition.
DOL starters (Direct On Line starters) is the most basic form of any motor starter, consisting of a circuit breaker, contactor and overload relay. They are usually used for starting up smaller three phase induction motors where the mains supply can withstand high starting currents without excessive voltage dips, and has an overload tripping mechanism which can be operated by either thermal or magnetic overload trips.
Star Delta starters is the preferred type of starter used with an induction motor, as it has the ability to reduce the starting current and voltage up to 3-4 times, causing less burning and losses.
Click here to shop our full range of motor starters, from some of the world's leading brands including Danfoss and Siemens.
Motor Control Gear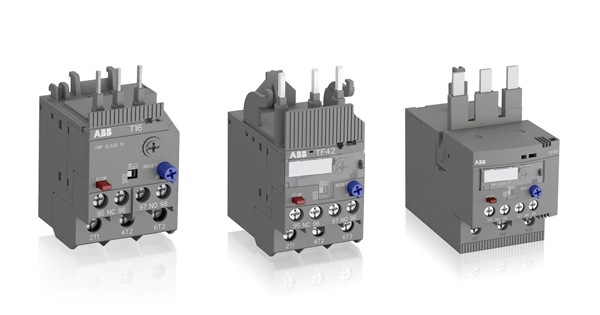 Motor control gear is used to produce high torque or force , as well as maintaining the speed or horsepower of the motor output.
Contactors are one of the main types of motor control gear, used for switching an electrical power circuit. Contactors are basically a switch that is controlled by a low power circuit, in order to switch on the higher power main circuit. They are made up of three component: the contacts which carry the current, the coil (electromagnet) which provides the driving force needed to close the contacts, and the enclosure which is a housing to frame the contact and the electromagnet.
Overload relays are another method of motor control gear, used to protect the main circuit in the event of an overload or phase failure. Overload relays work by being triggered by heat developed in the relay. Once the level of current in a circuit has reached a specified value, it causes an increase in temperature which in turn opens a set of contacts. They provide a great deal of extra protection to motor starters, and can be an inexpensive installation to help avoid any damage to the circuit in the event of an overload.
We stock a wide range of motor control gear from Siemens and ABB here at LED Controls. Click here to shop the full product category.
Electric Motors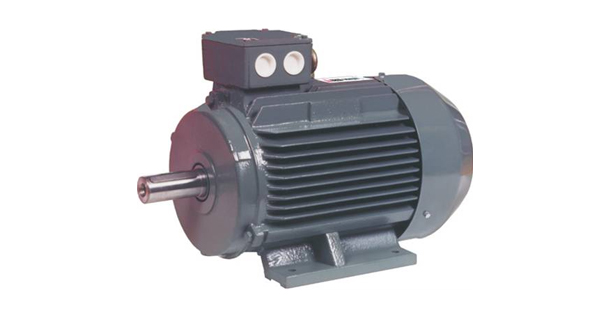 Electric motors are used to power almost every mechanical movement, and are found in just about any piece of electrical equipment. Electric motors are available in a whole range of sizes and are used to power smaller scale household electrical appliances such as food processors, to large scale processes such as ship propulsion.
Electric motors are powered with the use of magnetism, in order to create motion. By using opposite ends of a magnet, they create a repelling action which in turn causes a rotational motion to power the motor.
Our range of electric motors are manufactured by brands such as TECO and Brook Crompton. You can shop all of their electric motors here.
It is essential to have some form of circuit protection in any electrical appliance, and there are many different methods available. Some of the circuit protection equipment we offer...
Shop our full range of circuit protection equipment here.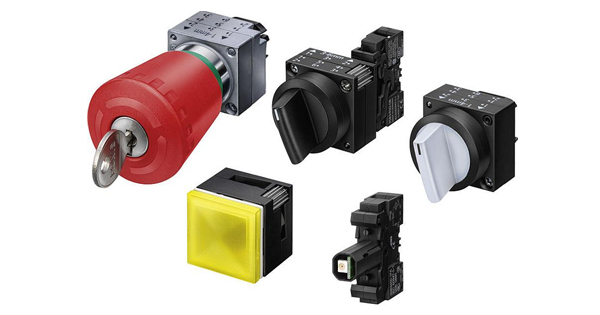 Contact blocks, illuminated pushbuttons, indicator lights, labels, encosures, lampholders and switches - these are all different types of command and signalling devices. These fairly inexpensive pieces of equipment can be found on just about any piece of motor and drive technology, and allow for the safe, reliable and predictable operation of any device.
We supply a large selection of easily configured command and signalling devices from leading manufacturer Siemens, which you can view here.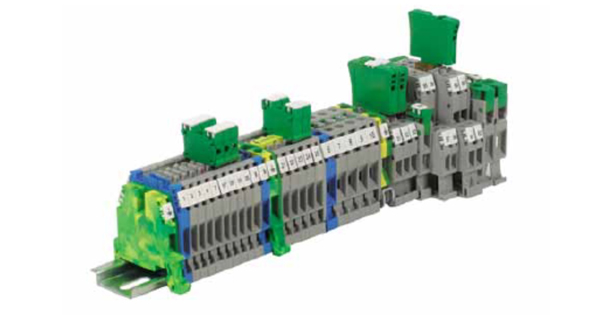 Connectors are used in every electric circuit in order to join electrical terminations together, such as two wires or cables, or connecting a wire or cable to an electric terminal, allowing the electricity to flow through. There are many different types of electrical connectors available, and they all consist of male-ended plugs and female-ended jacks.
Electrical terminals are the devices that provide a point of connection to external circuits, after the conductor from an electrical component, device or network comes to an end. Terminals can be anything from just the end of a wire, to being fitted with a connector or fastener. Different types of terminals include hooks, clips, screw terminals, tab terminals, wire nuts and many more.
Cabur is one of the world's leading manufacturers of terminals and connectors, and we stock a full range of their products here.
Enclosures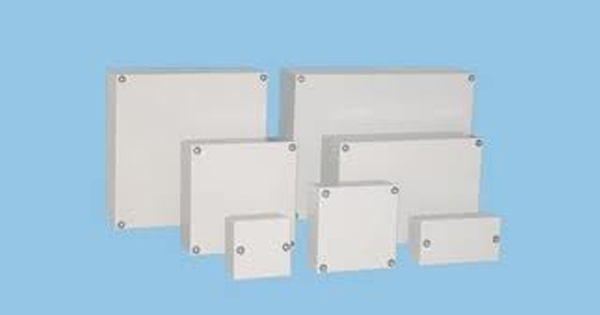 Electrical enclosures are purposely built housings to protect a variety of electrical components, so that they are not immediately exposed to the environment. They are specifically designed for the protection of cables, switches, knobs and other electrical equipment from anything that may affect the operation of a system.
Depending on your requirements, enclosures are available in different materials from plastic to steel, and some designs include a window pane for easy visibility. Enclosures can protect equipment from dust, condensation, water spray, pressure and solid objects, as well as minimise the risk of unrestricted access to the system.
They are available in a range of different IP protection, from IP65 to IP68 (most commonly) , which indicates the degree and level of protection for both the equipment and the people around it.
Click here to shop our full range of electrical enclosures, in a variety of different sizes and materials.
Fans & Filters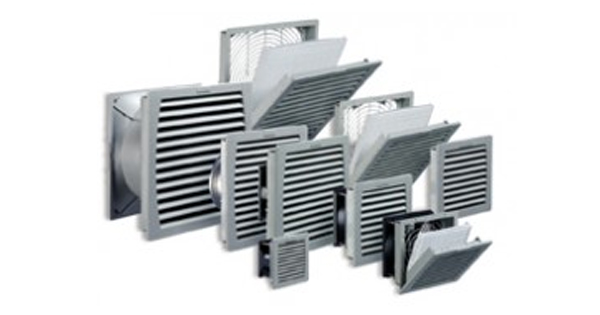 Our range of industrial fans and filters are manufactured by industry leading brand Pfannenberg, who provide a full range of exhaust filters, filter fans, slim line filter fans, top mounted exhaust filters and top mounted filter fans.
All of their filter fans boast an exceptionally high airflow, with an IP 55, type 12 protection system and are available in a different variety of voltages from 12V to 400V. They also produce a set of "click & fit" exhaust filters, which make for easy installation and removal due to their specially designed snap fastener function.
You can shop our full range of Pfannenberg's fans & filters here.
Industrial Connectors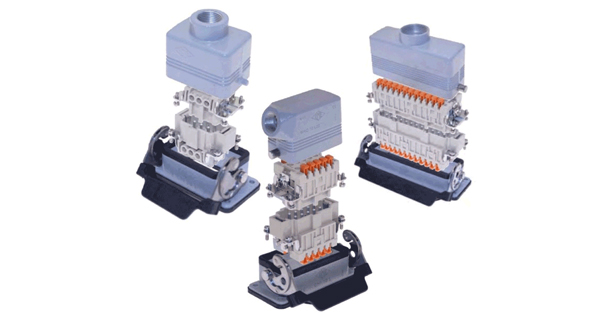 Hoods, housings and inserts are all different types of industrial connectors used in electronic devices. We stock a variety of multipole connectors from Ilme, which are available in different multipole sizes from 21.21 to 104.27, with an option of number of poles from 5 poles to 42 poles.
Click here to shop our full range of Industrial connectors manufactured by Ilme.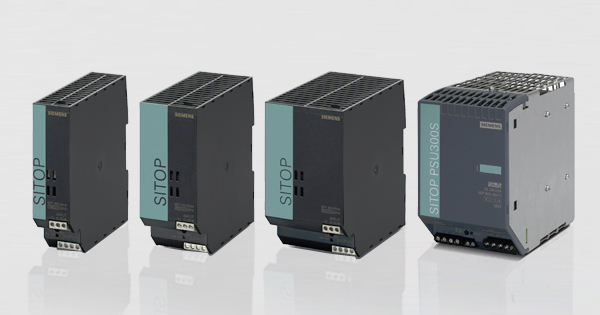 Electrical transformers are used to transfer electrical energy between two or more circuits. This is done through the power of magnetism, as the electric current flowing through a wire generates a magnetic field, creating an electromagnetic induction. The strength of the magnetic field depends on the size of the electric current, which then determines the power output. Transformers are used to reduce the high voltage electricity received from power plants, to transform it into a lower voltage electricity to power buildings and appliances.
Industrial Power Supply Units (PSU's) are used to provide a constant power supply to any electrical system, and are available in a variety of different currents and voltages depending on its usage needs.
Shop our full range of Transformers and Power Supply Units from Siemens, IMO and Lovato here.
A whole host of machine safety and sensor devices are available to ensure the safe operation of any electrical equipment. They can be used to immediately stop and start machines if any dangerous movement is detected. Light curtains, safety sensors, position sensors, safety relays, safety controllers, safety timers and safety switches are just some different types of machine safety and sensors available.
Click here to shop our full range of machine safety and sensors from ABB.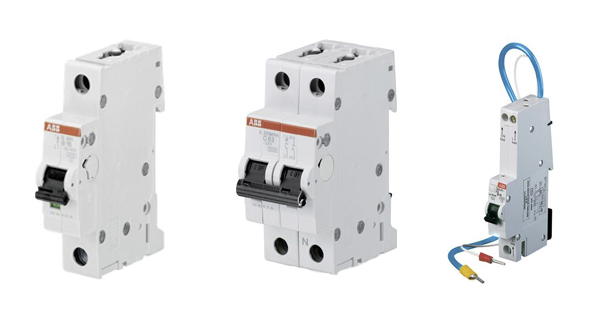 Consumer Units, Outgoing MCBs & RCBOs, Distribution Boards and Incomer Options are all different types of power distribution devices manufactured by ABB, and available to buy here at LED Controls.
Consumer Units are a type of distribution board used to supply power to subsidiary circuits, and available in different characteristics (B,C,D,K,Z), configurations (1P,1P+N,2P,3P,3P+N,4P), breaking capacities (up to 6 kA at 230/400 V AC) and rated currents (up to 63A).
ABB's Outgoing MCBs & RCB0s are fitted with two tripping mechanisms; the delayed thermal tripping mechanism which provides overload protection, and short circuit protection is provided by an electromechanic tripping mechanism.
For further information or any enquiries about our products, don't hesitate to get in touch with us.