GRP enclosure is a wide-ranging term that can be used to refer to a variety of protective cabinetry and containers, all of which are collectively utilised across a vast array of domestic, commercial and industrial sectors. We stock plenty of GRP enclosures ourselves here at LED Controls, so below, we've provided a couple of key essentials on what they are and exactly they do.
What is a GRP Enclosure?
A GRP enclosure is typically an electrical cabinet that's been specifically designed to protect writing and other electrical components from environmental damage, casual bumps and impacts, or even theft or vandalism. GRP itself is a technical term that stands for Glass Reinforced Plastic. It's sometimes referred to as FRP (Fiberglass Reinforced Polyester), which is the Canadian or US equivalent.
The fibreglass reinforcement of this plastic gives it the physical resilience of a metal enclosure, and it's also notably less stiff and brittle than carbon fibre, giving it a decent resistance against sudden impacts.
Glass Reinforced Plastic also has a number of further inherent properties and characteristics, all of which help GRP enclosures to provide the best protection over a standard metallic junction box or wall mounted enclosure.
A fuller list of these properties includes:
Lightweight
Strong and durable
Shockproof (with impact strength on a par with that of metal enclosures)
Watertight
Corrosion resistant
Low maintenance
High resistance to temperature fluctuations
UV resistant
All these properties combine to create a sturdy, cost-effective solution for an array of sensitive technologies, interfaces or equipment. GRP enclosures typically have long lifespans, often of 20 years or more. Some can last even longer with the proper care and maintenance (such as giving it extra coatings, or repainting it at sustained intervals)
Types of GRP enclosure
At the point of manufacture, Glass Reinforced Plastic can be easily moulded into a broad variety of designs. Some companies even offer bespoke GRP enclosures that can be manufactured according to an exacting set of specifications.
Examples of the most common types of GRP enclosure include: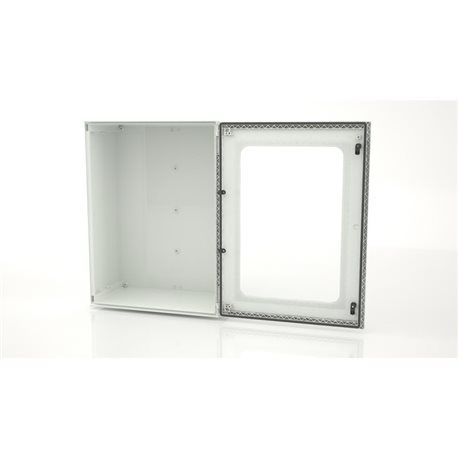 Gas meter boxes
Cabinets
Small enclosures
Stands
However, much bigger versions can also be manufactured, up to and including walk-in variants. Examples of some of the larger types of GRP enclosure include:
Generator enclosures
Kiosks
Gatehouses
Storage units
Welfare units
Where are GRP enclosures used?
GRP enclosures can be utilised across a number of industries, spanning the domestic, commercial and industrial sectors. They are often regarded as essential safety measures in the latter two sectors, especially in areas which might be otherwise openly accessible to members of the general public.
They are widely used in rail transport, energy, gas, water, industrial, and telecommunications, as well as underground installations. They are a particularly common sight in electricity substations and power supply rooms.
Typical features
The features of each GRP enclosure varies according to its manufacturer and intended purpose, but can include stainless steel hinges, secure lockable doors, additional water protection, viewing windows, and hipped roofs. The generally offer sturdy security options, often via a fitted door locking mechanism suitable for padlocks.
Their IP ratings can similarly vary, but are usually at least IP55 (considerable protection against dust ingress). Some are rated as highly as IP65, which is considered to be fully dust tight, and can even protect the interior against a concentrated jet of water.
GRP enclosures from LED Controls
Here at LED Controls, we're proud to be able to offer our own customers a fantastic range of GRP Enclosures. We're stockists of the SafyBox BRES range of GRP Enclosures.
These are perfect for commercial applications, and provide the very best protection over a standard metallic junction box or wall mounted enclosure. Lightweight and easy to install, these are made of Glass Reinforced Polyester - a self-extinguishing, halogen free material which has been tested at temperatures of up to 960°C. These GRP enclosures excel even in typically demanding environments, such as food or chemical processing facilities.
We supply these GRP enclosures with multiple backplate options, and you can further customise yours with hole cut-outs or logos, or take your pick from glazed doors, internal doors, and accessories - allowing you to shape your own GRP enclosure to your exact specifications.
You can find out more information about our range of SafyBox GRP enclosures here, or start shopping our range now. Don't forget, if you've got any questions or you need a bit of further clarification on anything, our friendly experts are only too happy to help. Feel free to give us a quick call on 01706 242050, email us on [email protected], or fill in our contact form.