Keep your machinery moving with ABB AF Contactors
LED Controls are stockists of the ABB range of AF Contactors.
ABB is known for its mastery of the control gear industry, and its innovative contactors combine cutting-edge energy saving technology with simplified specification. Their latest range, the AF series, has raised the bar for the industry. There are many benefits associated with the electronically controlled coil as opposed to the conventional alternatives, and with the diverse product offering from ABB, you can get an optimal relay configuration no matter your requirements.
Continuous operation
The ABB AF range of contactors delivers continuous operation even in the most demanding locations, helping to ensure you can keep your machinery running all year round.
With ABB contactors, the electronic system rectifies both AC and DC control circuit voltages to a DC control voltage applied directly on the coil. The contactor is operated safely and maintains optimal condition for a consistent and virtually noise-free solution. Stoppages caused by fluctuations in voltage are all but eliminated due to distinct operation even in unstable networks. The AF contactor from ABB handles any threat usually posed by voltage sags, dips and surges to secure your up-time.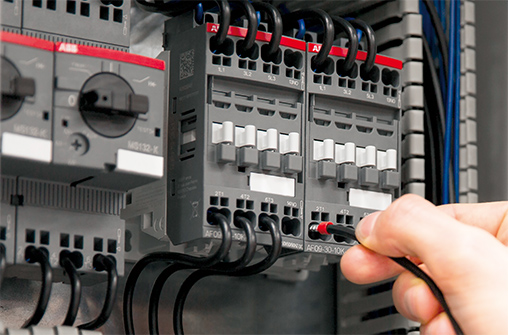 Benefits
Access global support:
The ABB AF range is compatible with all major national and international standards, the 100 … 250 V AC/DC coil covers all standard network voltages, and service and support is available worldwide.
Optimising efficiency across the board:
Accommodating both AC and DC support in the same product has enabled ABB to achieve a 90 percent reduction in the total number of product variants compared to a conventional range.
Streamlined design:
AF contactor's width has been reduced by up to 30 percent thanks to an 80 percent reduction of the coil's energy consumption, meaning smaller panels and more compact transformers.
Reliability:
With the wide voltage range, AF technology can handle voltage sags, dips and surges to consistently secure your uptime.
Main features
Up to 560Kw – 400 v ac-3, 900 hp – 480 V and 2650 A – 690 V AC-1
2700 A – general use
Only 4 coils cover 24 V – 500 V AC and 20 V – 500 V DC
Screw, push-in spring and ring tongue connection types
Built-in surge suppression
Connection sets and interlock unit for reversing and star-delta starter for an easy, fast and secure assembly of starters
Mirror and mechanically linked contacts.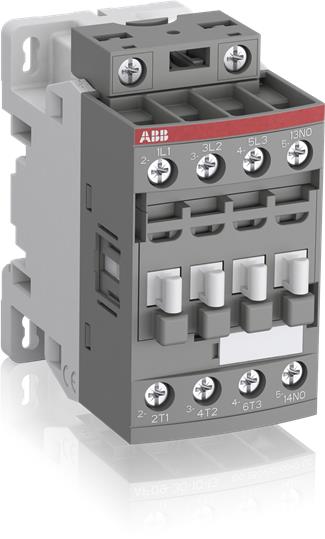 Browse the range now.
If you have any questions or queries about LED Controls' services and products, don't hesitate to get in touch with the team by emailing [email protected], calling 08450 756230, or clicking here to fill in a contact form.